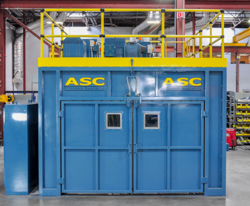 Standard Composite Curing Oven Models
Our standard composite curing oven models are state-of-the-art in out of autoclave composite curing technology and provide more advanced features like our world-renowned CPC Controls system and the same vacuum systems we install in our Econoclave systems that provide higher performance than any other composite curing oven product on the market.
If you do not see a standard model in the list below that fits your composite curing oven requirements, please click the "Request form" tab above and let us know what you are looking for. We manufacture composite curing ovens of all sizes and capabilities.




| Model Series | Working Width | Working Depth | Working Height | Working Temp. | Get a Quote |
| --- | --- | --- | --- | --- | --- |
| OV6X6X6 | 72" (1,828mm) | 72" (1,828mm) | 72" (1,828mm) | 550F (288C) | |
| OV8X8X8 | 96" (2,438mm) | 96" (2,438mm) | 96" (2,438mm) | 550F (288C) | |
| OV8X10X8 | 96" (2,438mm) | 120" (3,048) | 96" (2,438mm) | 550F (288C) | |
| OV8X20X8 | 96" (2,438mm) | 240" (6,096) | 96" (2,438mm) | 550F (288C) | |
| OV10X10X8 | 120" (3,048) | 120" (3,048) | 96" (2,438mm) | 550F (288C) | |
| OV10X20X8 | 120" (3,048) | 240" (6,096) | 96" (2,438mm) | 550F (288C) | |
| OV12X12X8 | 144" (3,657) | 144" (3,657) | 96" (2,438mm) | 550F (288C) | |
| OV12X20X8 | 144" (3,657) | 240" (6,096mm) | 96" (2,438mm) | 550F (288C) | |