ASC Process Systems manufactures many types of autoclaves systems for the thermal processing and bonding industries world wide.
Composites Autoclave Systems
Manufacture of the world's largest composites autoclave system, ASC Process Systems is also the world's largest supplier of autoclave systems used in manufacturing aerospace composites, composite racing systems, high performance sporting equipment, and ballistics armor. ASC is also the home of the Econoclave®. The Econoclave® is ASC's flag-ship autoclave system with installations throughout the world.
What makes up a composite autoclave system
Autoclaves used for composite bonding in the Aerospace, military, and other high performance industries must be built with extra care and attention to detail. These autoclaves are held too much greater standard than autoclave systems used for vulcanizing, wood treatment, concrete curing, etc… as most of the parts produced in a composites autoclave end up as parts on the planes we all travel on and in the military protecting our troops.
These systems are internally insulated to keep the internal temperatures from directly reaching the shell of the or vessel wall thus providing a more controllable environment and ultimately higher performance during the heat up and cool down segments of a composites cure cycle.
How did our Econoclave® and ASC become so popular in the composites industries?
Through experience, our passion for improvement, our desire to build the most sought after composite bonding autoclave system in the world, we were able to achieve and deliver success. We developed the Econoclave®, a finished product that has become the standard in composite processing worldwide.
Over 20 years of composite autoclave innovation
In 1988 ASC developed our first composite autoclave, and since then we have become the leader in autoclave innovation and autoclave performance. ASC has always worked closely with our customers, such as Boeing, ATK, GKN, Lockheed, Northrop, Vought, and others, to co-develop autoclave and control system technology. Because of this partnership, ASC's autoclave systems always meet and exceed the needs of the world's aerospace buyer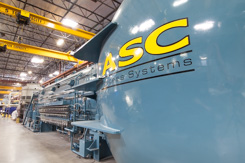 Temperature uniformity
With the high cost of composite materials and tooling, the need for quality temperature uniformity becomes a great concern. For this purpose, the aerospace composites autoclave is equipped with an air transfer system and some are much better than others. ASC has developed the "H" slot system that has become the most popular system in the composites industry.
This ASC designed "H" slot system enables predictable and adjustable airflow from the front to the rear of all our standard and custom Econoclave® brand composite bonding autoclaves.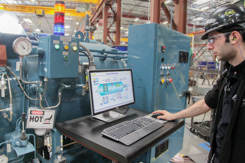 How it controls
The ASC composite autoclave utilizes an advanced control systems called CPC to control the temperature, pressure, vacuum, and cure times based on engineered cure recipes and reading gathered from the sensors that are attached directly to the aerospace composite parts and tools during a cure cycle.
These sensors include fixed air and part thermocouples to monitor the temperature on the part and ambient air temperatures in the autoclave, vacuum transducers to monitor vacuum being applied to the part, and much more.

Its capabilities
ASC's composites autoclaves are designed to provide the quickest turnaround for each production load of composite parts. Production cycle times are directly dependent on ability of the autoclave to transfer thermal energy into the part and tool load. This transfer can be improved by high air-speeds and uniform flow within the autoclave environment.
With proven success as the industry leader in autoclave manufacturing, the ASC Econoclave® is used to make many of the aerospace and military products we rely on nearly every day.
Experts at aerospace specifications
At ASC we believe that quality and pride in the product we produce matters. With composites playing a major role in our lives from sporting good, cars, to the plans we travel on daily, ASC has taken the steps to raising the bar in autoclave manufacturing to provide better and ever more energy efficient composite bonding equipment for the composites industries.
Along with being ISO 9001:2008, ASME Section VII, Div 1, and National Board certified, we are experts at the intricacies of advanced aerospace composites autoclave design and composite material curing specifications including and not limited to Boeing's autoclave qualification specification D6-49327 and AMS 2750.
Superior controls
Every ASC Econoclave® composite autoclave comes equipped with CPC, the world's leading autoclave control system for autoclave processing. CPC (Composite Processing Control) was created in 1988 and over the last 20 years has grown into the most comprehensive, most reliable, and most power solution for autoclave composite curing. The package is continually updated with new features and functions to meet the changing production and laboratory requirements of our customers.
Superior vacuum to your parts
Part quality is directly related to the quality of the vacuum that is delivered to each of the bagged parts. ASC's Econoclave® incorporates innovative vacuum systems and vacuum control technology to supply reliable levels to each of the curing parts.
Our autoclaves not only control and monitor the vacuum level to each part, but the CPC control system performs automatic leak tests prior to and during the run. Each leak test generates a report that becomes part of the permanent data record. Also, our CPC software includes a 6-step pre-run integrity check process to test and verify that the vacuum system, parts, and part attachments are properly situated before starting the run. This process insures the lowest risk to your expensive part load.
We've built the largest composite curing autoclave in the world
ASC is proud to be a Guinness World Records holder for having designed and built the worlds largest composite autoclave. The unit owned by Boeing Charleston and is used to cure the fuselage sections for the Boeing 787 Dreamliner. The unit stands 30 ft. diameter x 75 ft. long.
How do I get a quotation?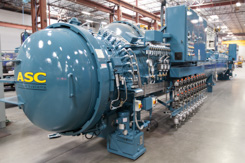 ASC offers many standard models and sizes of the Econoclave®composite autoclave. If your process requires something more customized, you're still in the right place. All of our standard models can be customized to meet your specification requirements while maintaining the high quality of the Econoclave® line.
Please click on the "Standard Models" tab above to select a specific size of Econoclave®, or you can define your exact autoclave using our "Custom Autoclave" form. When you submit the form, our sales staff will contact you immediately to discuss your request and, if necessary, they will schedule a site visit to discuss the project. For standard autoclave units, you can expect a proposal within 3-4 business days. For custom autoclaves, please allow 1-2 weeks for a fixed-price proposal. For large field-erected autoclaves, please allow 3-4 weeks for a fixed-price proposal.