The Econoclave® - Smart design leads to great things™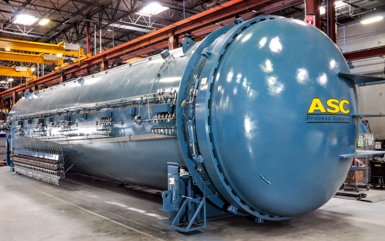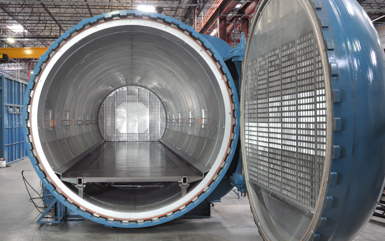 The Econoclave®
The world's most popular composite curing autoclave. It brings together ASC Process Systems' world-class engineering, unique autoclave system design, quality materials, advanced capabilities, and streamlined manufacturing to provide an energy-efficient, aerospace autoclave for Tier I, II, and III manufacturers.
The Econoclave® is state-of-the-art in composite curing autoclave technology and provides more advanced features and higher performance than any other autoclave product on the market. With its advanced engineered design and the world's leading CPC control system, no other product can match its capabilities and performance.
The Econoclave® is not only affordable, but its space-saving design also requires less energy to operate which saves you money in electricity, compressed air, and nitrogen usage each time you process your part. When compared to conventional autoclaves, a large production Econoclave® can save tens of thousands of dollars each year in operational costs.
The CPC advantage
The Econoclave® is the only autoclave that comes with ASC's Composite Processing Control (CPC) system. CPC is a PC-based control solution designed specifically for composite curing autoclaves and ovens. It is by far the most preferred control system in the world with over 1500 users. The majority of the world's major aerospace composite manufacturing companies choose CPC as their only control solution for their composite curing autoclaves.
CPC was first launched in 1988 and since then has been updated yearly to address the ever-changing composite requirements. It is a bullet-proof Composite Bonding autoclave or oven controls application with incredible reliability and power.
The Econoclave® difference
There are major differences between an Econoclave® and a conventional autoclave. These differences are highlighted in the graphics and are explained below.
ASC Process Systems Econoclave®
Efficient - Under floor-mounted heating, cooling, and air duct
The Econoclave® does not require a radial air-duct and instead utilizes the floor as the forward air delivery system which provided an even distribution of turbulent air throughout the working area. This unique ASC design reduces the pressure vessel diameter by 6-8" (150-200mm) when compared to a conventional autoclave. This reduction in size and the elimination of the inner air duct reduces operating heating & cooling costs, pressurization costs, and equipment price.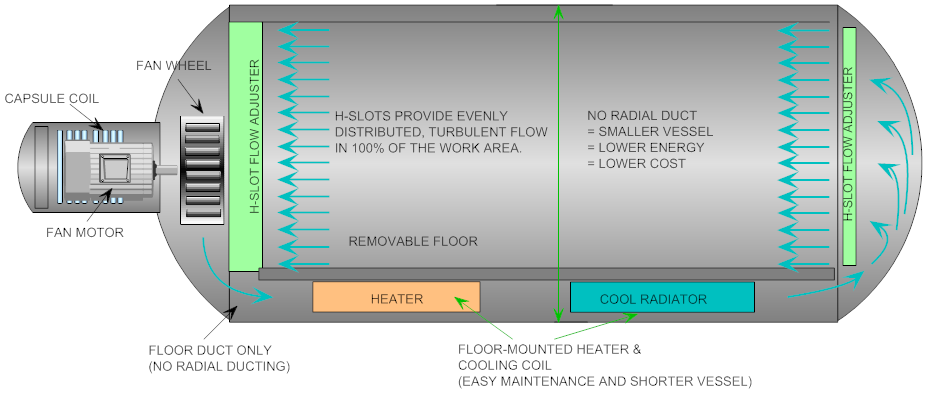 Conventional Autoclave
Non- Efficient - Rear mounted heating and cooling with radial air ducts
Conventional autoclaves have a radial air duct that is used to transfer air from the rear of the autoclave to the front. This air duct not only requires a larger pressure vessel but it also utilizes extra ducting sheet metal that must be heated and cooled.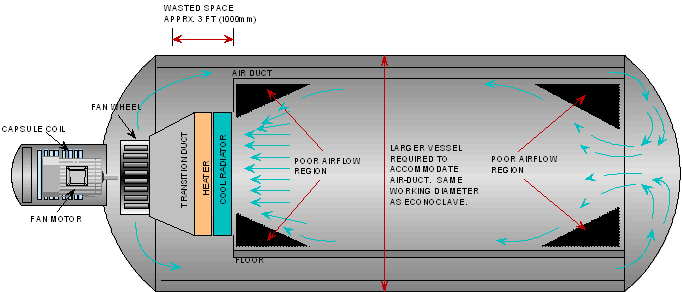 More key Econoclave® features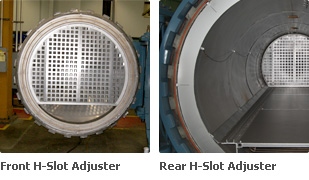 The H-Slot difference
Every Econoclave® utilizes proprietary H-Slot air flow adjustment panels to balance air flow in the autoclave. H-slot adjusters allow the autoclave to be smaller and utilize less energy than a conventional autoclave. H-slots are full-area, flow adjusting panels that facilitate the balancing and straightening of the air flow at the front and rear of the autoclave prior to entering/exiting the working volume. Unlike conventional autoclaves, an Econoclave ® with H-slot technology has no dead-spots and therefore provide near 100% usable volume for your parts. The overall result is unequaled temperature uniformity down the entire length of the autoclave and uniform heating and cooling of your valuable part load.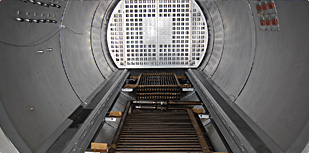 Floor-mounted Heater and Cooler
In conventional autoclaves, the heater and the cooling radiator is typically mounted at the rear of the autoclave. This rear-mounted approach requires the autoclave pressure vessel to be up to 4 ft. (1.4m) longer to accommodate the components and the transition duct.
The Econoclave®, on the other hand, incorporates floor-mounted heaters and cooling radiators and therefore eliminates the need for the additional vessel length. This feature allows the Econoclave's vessel to be much shorter than the vessel used for a conventional autoclave. This positively impacts operational costs by reducing the amount of heating required and the amount of pressurization gas used for a standard cycle.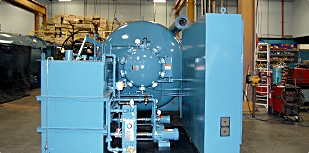 Fully integrated assembly
Unlike competitive autoclaves, the Econoclave ® is fully integrated and tested at ASC's factory prior to shipment. This assures the customer of quick installation and commissioning effort. In most cases, installation and startup of an Econoclave® can be completed in 1-2 weeks. Compare this to competitive products where the customer is responsible for the cost and labor involved in connecting all the auxiliary systems.
Shown below is an integration skid platform, complete with cooling tank, pumps, a vacuum receiver, and control/power enclosure. All auxiliary components are integrated and shipped as one complete and tested unit.
High-quality materials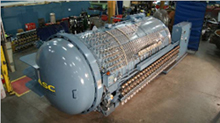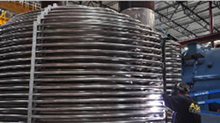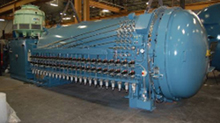 Unlike competitive products, Econoclaves utilize only the highest quality materials. We do not use plastic or copper tubing and we standardize on stainless-steel for all vacuum system tubing and air supply lines. Additionally, all heat exchangers are stainless steel rather than carbon steel or copper.
Market designed solutions
ASC designs Econoclaves specifically for different market segments. We have versions customized to meet the needs of aerospace composites, ballistic and armor, glass laminating, and nuclear markets.
Size and operating conditions
ASC can design and build any size Econoclave® you require. We have experience building shop and field-erected units from 1' diameter x 3' long to 30' diameter x 200' long. Operating conditions up to 2000 psi and 1500 °F are no problem.
Advanced capabilities are standard
Unlike other manufacturers, ASC provides advanced capabilities as a standard for all new autoclaves. These capabilities include the world's leading Composite Processing Control computer control system, automatic vacuum line control, automated quality analysis, advanced reporting, SPC capabilities, and many other features not available from any other autoclave or controls company.
Adherence to specification
We design and manufacture our autoclaves specifically to meet your processing and operational specifications. You can be assured that ASC autoclaves will not only meet but also exceed all of your specific requirements.
Designed to meet global demand
Along with US standards such as ASME and UL, ASC designs and builds Econoclaves to meet all world codes and standards, including CE / PED for the European Union, China Pressure Vessel authority, Japanese Industrial Standards, and many others (you can view our specific certifications on the About section of the site).
Auxiliary systems
No autoclave is complete without the proper auxiliary systems for vacuum supply, pressurization supply, and cooling water supply. ASC can provide closed-loop cooling systems, vacuum systems, liquid nitrogen tanks and vaporizers, cold traps, and any auxiliary component or system you need.
Turn-key installation
ASC provides turnkey installation of all our autoclave systems. From site plan and preparation to training, ASC provides everything you need to receive a fully installed and commissioned autoclave.