ASC Process Systems manufactures many types of autoclaves systems for the thermal processing and bonding industries world wide.
AAC Concrete Autoclave Systems
Autoclaved aerated concrete (AAC) also known as autoclaved cellular concrete (ACC) is a highly thermally insulated concrete-based material used for both internal and external construction. AAC has excellent thermal insulating qualities and is also easily installed. Another benefit is that it can be routed, sanded, and cut to size on-site using standard carbon steel tools.
Autoclaves are used to cure aerated concrete use live steam. These autoclaves are usually very long in order to accommodate rail-car loading techniques and large part loads. ASC is one of the only domestic US manufacturers of autoclaves for aerated concrete curing.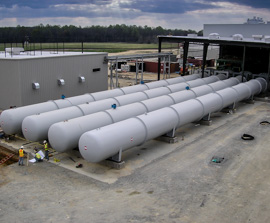 Safety by design
ASC prides itself on the design of extremely safe (AAC) autoclaves for processing. We utilize our field-proven quick-opening door and design significant corrosion allowance and safety factor into all of our AAC autoclave pressure vessels in order to insure many years of safe operation. ASC's manufacture autoclave systems for the aerated concrete industry to ASME, PED, and other pressure vessel codes in accordance to local jurisdiction.
Door configurations
AAC autoclaves can be manufactured with vertical swing, side swing, or davit rotating doors. ASC's designs are field-proven and will be customized to your facility and production workflow requirements.
Heating distribution
Our AAC autoclaves used for processing aerated concrete have been designed to provide excellent heat transfer to your concrete load and provide uniform temperatures down the length of the autoclave. Internal piping and steam distribution manifolds are engineered to satisfy your exact load and cycle time requirements.
Loading systems
ASC can deliver an AAC autoclave with fully-integrated rail system, loading system, carts, and automated pit bridges. Let us know what your specific requirement is and we'll design a system that meets your needs.