Finance your next Econoclave or Composite Oven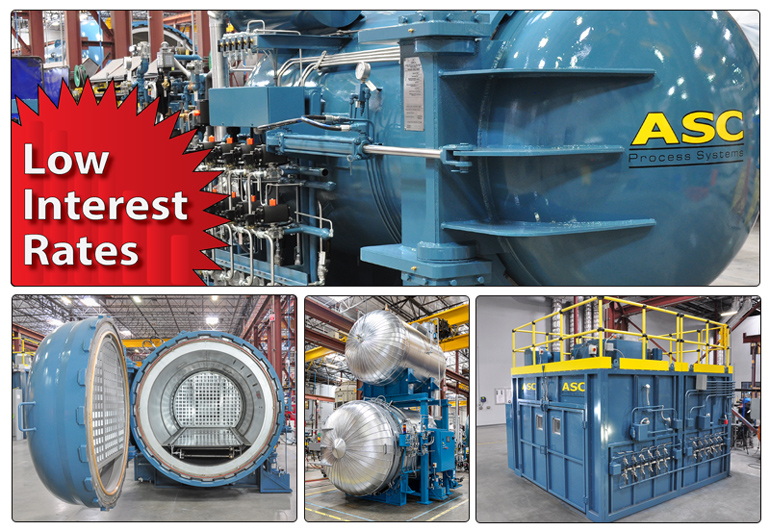 Get the right financing for your business?
ASC is excited to offer equipment financing to all our customers. With our flexible financing options, we have made it easier than ever to purchase high-performance composites bonding equipment. Some of our advantages: no money down, same-day credit approval, and low-interest rates. We make it easy to set up affordable monthly payments and preserve your working capital.

Talk to us about financing!
Financing now available.
Capital financing enables a company to better match the monthly cash flow being generated from the equipment to the obligation of the monthly payment due under the financing vehicle.
- Will Finance orders $1,000,000+
- Terms 12 - 84 Months
- No Down Payment
- Deferred Payments
- Seasonal Payments
- Step Payments
We made it easy to get started
Simply complete this business application and we will get you started on your way to having the production equipment you need to succeed.
Do you have any questions?
If you have questions regarding our financing options, please feel to contact our sales team for additional details and answers.
Sales Team Contact Information:
Phone: 818-833-0088, Fax: 818-833-0080,
Email: This email address is being protected from spambots. You need JavaScript enabled to view it.
Rates are subject to credit & Documentation approval. Offer is available to customers in the USA. The financing rate is subject to approval and not all buyers will qualify. Higher rates apply for buyers with lower credit ratings. Offer subject to change without notice and additional terma and conditions may apply. This offer has no cash value and is non-transferable.