ASC Process Systems manufactures many types of autoclaves systems for the thermal processing and bonding industries world wide.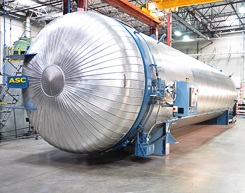 Vulcanizing Autoclaves
Vulcanizing autoclaves are used by the rubber industry to convert natural rubber into a cured and cross-linked vulcanized rubber product. Vulcanizing autoclaves can also be used to cure plastics. Vulcanizing autoclaves use live internal steam, a mix of live steam and hot air, or hot-air only. Vulcanizing autoclaves are used to cure tires, hoses, and many other products that might not lend themselves to a standard press-based compression molding process.
Depending on the type of rubber, the vulcanizing process can occur from room temperature (ie. Silicones) up to 350 °F (170 °C) or more (ie. Tires).
Any size and any capacity
Whether you're looking for a vulcanization for small parts or a 17 ft. (5.2m) diameter earth-moving tire (tyre) autoclave, ASC can design and build to suit your needs. Our manufacturing facility is capable of building autoclaves to 17 ft. (5.2m) inside diameter and up to 150 ft. (45.7m) long.
If you are looking for an even larger vulcanizer, then ASC can field-build a unit at your site.
Any configuration
ASC's vulcanizing autoclaves can be designed for horizontal or vertical orientation. We can also include an fully-integrated package that contains the steam-generator, vacuum pumps, and work carts. Let us know exactly what you are looking for, and we'll provide a vulcanizing solution to meet your needs.
Designed for long-life and safe operations
We utilize solid-modeling and FEA analysis to design and validate all of our autoclave pressure vessels and quick-opening doors. With ample corrosion allowance, our vulcanizing vessels will last for many decades in a high production environment.
Advanced controls
For those producers who are looking for more than just manual setpoint controls, ASC can offer our CPC computer control system to automate the entire vulcanizing process. CPC can also provide data archiving and reports to validate the vulcanizing process.