Composite Curing Ovens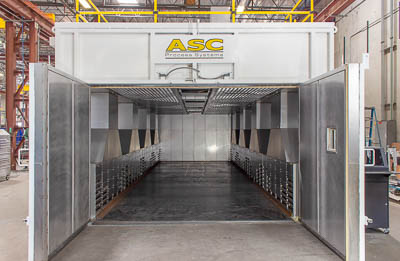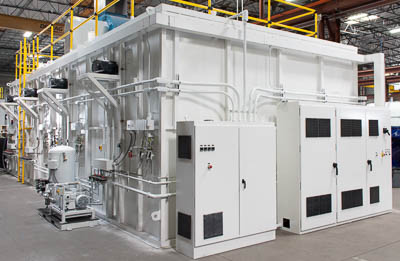 Large Composite Curing Ovens by ASC.
We design, engineer, & manufacture carbon fiber composite curing ovens.
Although there are a number of companies that build ovens, ASC Process Systems is the only company that can design, manufacture, and ship a factory-complete composite curing oven system with state-of-the-art features, capabilities, and reliability of an autoclave. We build medium to large-scale composite curing ovens that the aerospace composite industry demands.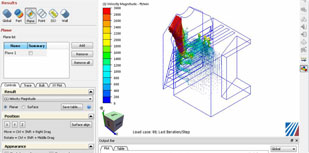 In-house CFD (Computational Fluid Dynamics) Analysis
Our Engineers take full advantage of today's advanced technologies when designing our ovens. With our in-house CFD (Computational Fluid Dynamics) engineering capabilities, our Engineers are able to develop the most advanced and capable composite curing oven systems available worldwide.
Often, we are hired by major aerospace companies to validate large aerospace tooling and demonstrate how those tools will heat in different oven configurations. This capability gives us an advantage in the oven design and provides the customer with an assurance that the oven we deliver will heat, cool, and cure their parts as specified.
We can help you find the correct solution for all your composites curing needs today!
Structurally Sound Composite Ovens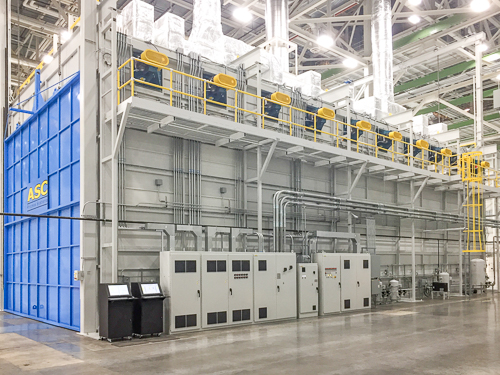 When purchasing an oven for curing composites, it is very important to understand the difference between an ASC composite curing oven and a conventional "panel oven".
At first glance you might not be aware of the difference, however, the difference will show up in system efficiency, performance, reliability, and overall cost of ownership. Rather than follow the industry and build "panel ovens", we have designed our composite curing ovens for efficacy, high durability, and long life through sound engineered construction and quality materials.
In a conventional "panel oven", the oven's walls and ceilings are made with interlocking 22" (550mm) wide 20ga sheet-metal panels. While this oven configuration is cost-effective at first, it is certainly not designed for long-term reliability or energy conservation. With this style of fabrication, there is a seam between each panel that creates a thermal leak point. In other words, each seam is constantly allowing cold air into the oven, and heated air to escape requiring the oven to heat excess air.
While a typical ASC composite curing oven, each wall of the oven is made as a structural element with heavy-duty steel tubing, heavy-wall 14GA plate, and very few seams. The result is an oven that reduces thermal leakage by 95% when compared to a "panel oven".
Large Composites Ovens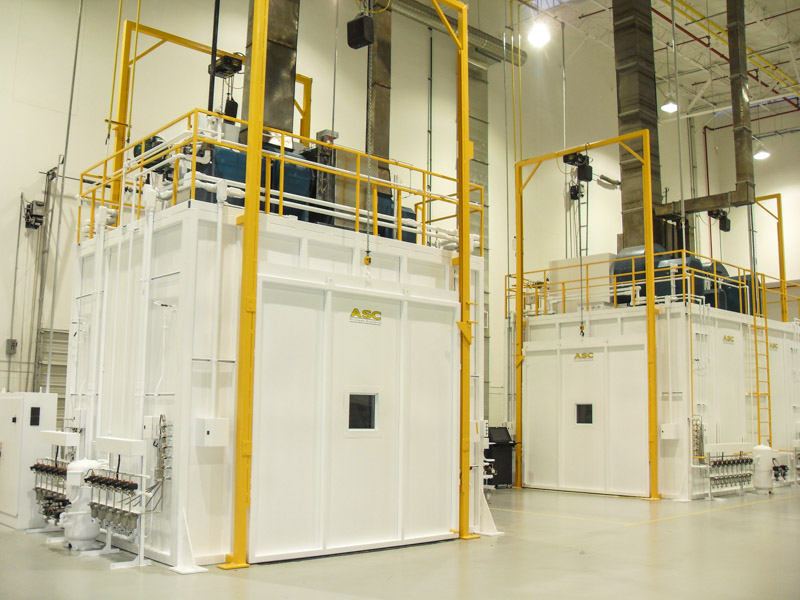 Our primary focus is on designing and building walk-in composite curing ovens for the aerospace composites industry. However, smaller composite oven projects will be considered for bid.
Large Oven Assembly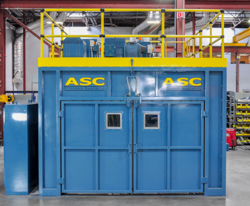 Depending on the size of the oven, ASC can erect the oven at our shop and ship an integrated, or we can ship larger ovens in sections for field assembly.
High Airflow equals
Quicker cure cycles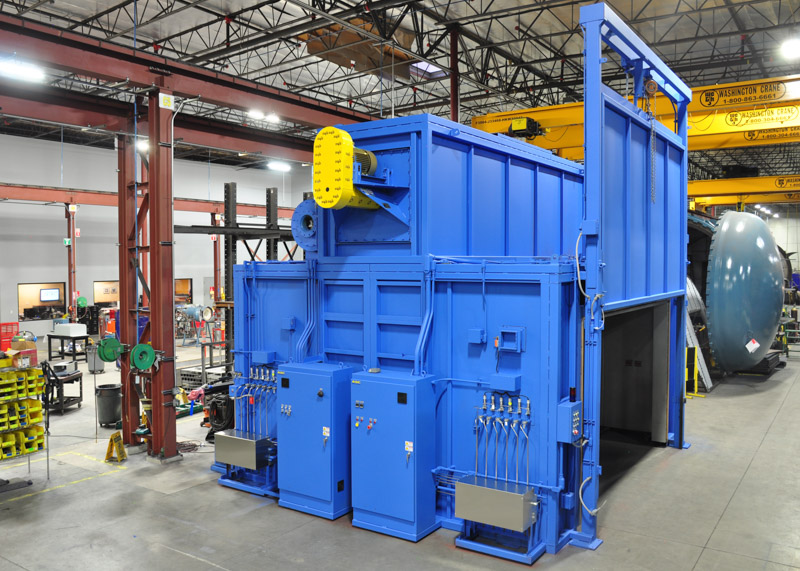 An ASC composite oven will usually have much more airflow than a competitive oven. Because we are composite experts, we know that high flow is the only real way to improve the heating of your parts and tools. By directing more air to your parts, the overall cycle time is reduced.
Adherence to specification & built to code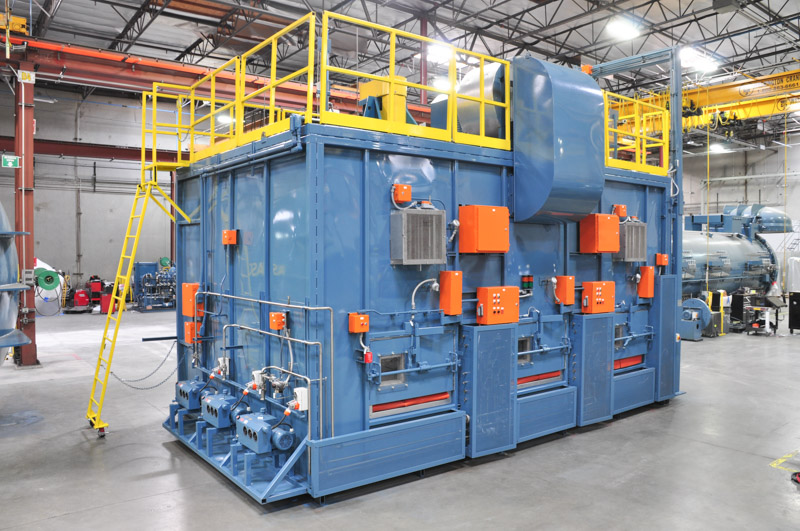 We design and manufacture our ovens to your processing and operational specifications and requirements. Designed and Engineered in accordance with all applicable codes and standards worldwide, you can be assured that ASC ovens will not only meet but also exceed all of your specific requirements.
The CPC advantage for composite curing ovens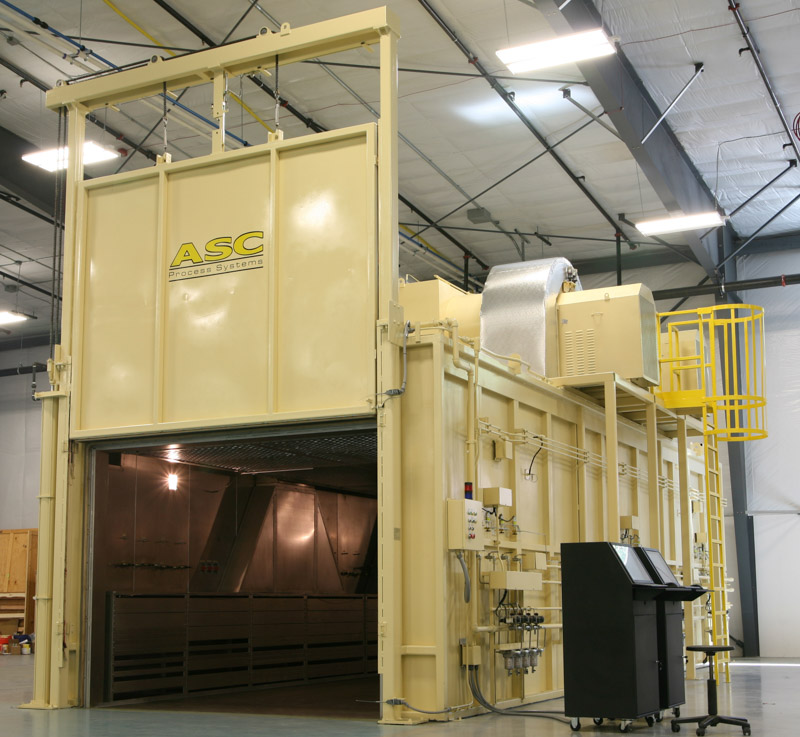 ASC's composite curing ovens come standard with ASC's flagship control system - CPC. CPC (Composite Processing Control) is the world's leading control software solution for composite curing in autoclaves, ovens, and presses. With over 1500 pieces of equipment being controlled by CPC every day, our composite processing control system, CPC, is the most popular control software for composite processing.
CPC is designed specifically for composites, and as such, it has more than 1000 built-in features and capabilities that other oven control packages don't have. First launched in 1988, CPC has evolved through the years to accommodate the new and ever-changing demands of the composite community. If you're needing to meet the requirements of NADCAP, AS9100, Boeing AMS2750, or other material and quality requirements, CPC is your answer.
Our customers have a saying, "A great oven + a bad software package = a bad oven. A bad oven + a great software package = a good oven. A great oven + a great software package = a GREAT OVEN". ASC is the only company that can deliver a truly great oven experience.
Aerospace-grade vacuum technology on our composite curing ovens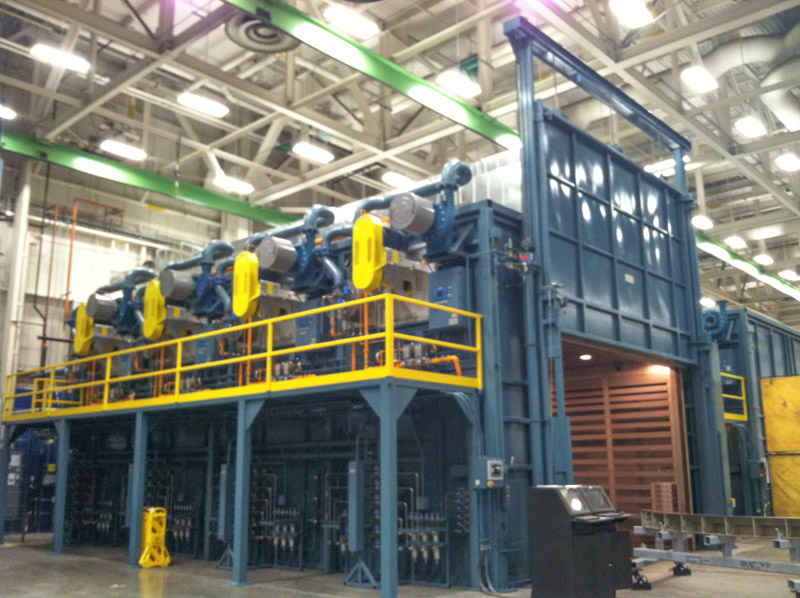 Since our customers require the same level of reliability and performance found in our autoclave vacuum systems, choosing the right vacuum system for our composites curing ovens was easy.
Utilizing the same high standard of quality and reliability found on our autoclave vacuum systems, our ovens include PC-controlled vacuum source lines and PC-monitored vacuum probe lines, the CPC system can perform automatic leak tests before the cure cycle and can provide leak tests during the run. No other oven manufacturer can provide this capability.
Like our autoclave vacuum systems, we use stainless-steel valves and stainless-steel tubing for all of our vacuum ports, ensuring long-life and leak-free operations.