Custom ASME Pressure Vessels
Our fabrication Capabilities:

ASC is a custom pressure vessel manufacturer with extensive world wide experience in engineering, fabricating, and delivering custom ASME Section VIII, Division 1 Certified pressure vessels. Our experienced ASME pressure vessel engineers and fabricators have designed and built custom ASME pressure vessels used around the globe in many industries including medical waste sterilization systems, wood treatment systems, AAC concrete processing autoclaves, dewaxers for investment casting, nuclear sampling & transfer autoclaves to our the state-of-the-art composites autoclave systems the "Econoclave".
U.S. Manufacturing Capabilities
Our Headquarters in Valencia, California has well over 120,000 sq. ft. of factory space designed for ASME pressure vessel fabrication. We are capable of shipping vessels from this location up to 16 feet in diameter and over 100 feet in length.
Field Fabrication of ASME Pressure Vessels
Through our years of experience building some of the worlds largest ASME certified pressure vessels for the composite bonding industries, we are accustom to and are capable of fabricating ASME certified vessel around the globe.
Quality Counts
Since 1988, ASC has followed its mission to provide to our customers the highest quality product and best service. With that, ASC has grown to become the largest and leading manufacturer of ASME pressure vessels engineered to meet the rigorous requirements of the thermal and pressure processing industries worldwide.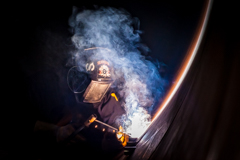 We are qualified and ready
ASME Section VIII, Div. 1

ASC holds current ASME Section VIII, Division 1 (unfired Pressure vessel) "U" and (Power Boiler) "S" stamps.
National Board Certified

We are certified to register new ASME pressure vessels, repair and alter existing nation board registered vessels.
World Wide Certification

In addition ASME, we also hold current certification and manufacturing licenses to build pressure vessel to PED, China , JIS, and South Korea codes & standards.